Last night I met another intrepid group of knitters through the
"Ottawa Knitting Meet-Up"
group. We had a lovely, low-key night... comparing projects, flipping through the latest knitting magazines, and going wherever the conversation lead.
It eventually came out that the majority of us had a (possibly irrational) fear of charts. Our hostess, perhaps more of a visual learner then the rest of us, couldn't understand... "You just follow the pattern!" she said. Maybe it
is
that easy. Maybe I'm just really bad at following directions. Maybe I haven't given it a fair chance yet. However, there's just something about charts that sends a cold finger down my spine.
Perhaps it's something to do with this.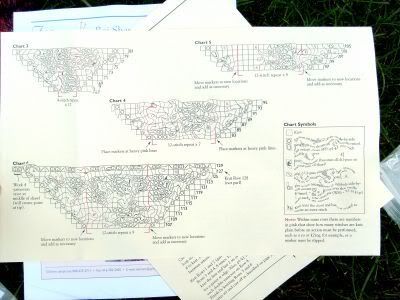 (photo deliberately mangled to preserve copyright)
How about that? Does it not make you a little nauseous, too, or are you made of much sterner stuff than I?
That little lovely is the
Raj Shawl
from
Fiddlesticks Knitting
. I fell in love with the juicy recycled sari silk, and was beguiled by the description that says the shawl is for "advanced beginner or intermediate" lace knitters. Advanced beginner? What am I, if not that?
Apparently, not advanced enough. I took one look at the 7... count 'em, 7 charts that this pattern uses, and quietly slipped the pattern under the sofa. Perhaps by the time we move or redecorate, I'll be ready to look this pattern in the eyes and not flinch.
In the meantime, I have some lovely, lovely recycled sari-silk yarn to pet and hold and call my friend. I don't think it feels cheated out of its destiny to become a shawl... it's already something more than it ever was supposed to be. We should all be so lucky.