You may recall some time ago I was debating about adding some vivid colour to SD1's room. Check it out...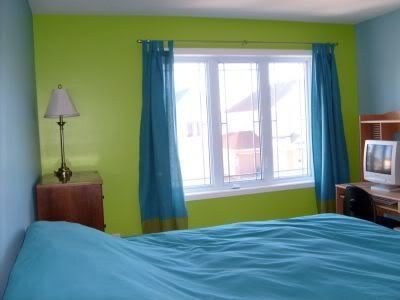 Makes SD2's room look sleepy and sedate. I can just hear her indignation that her sister's room got The Grand Treatment and her room just got painted.

*shrugs*

I am open to inspiration for her room, too... it just hasn't hit me yet. I settled for "done in time" over "perfect but late".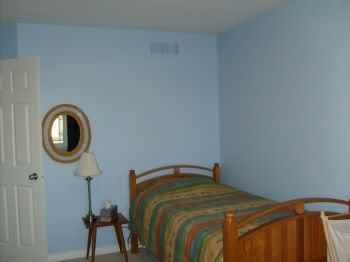 (The two rooms are not the same shade of blue, though it's fairly close.)
I'm on a time-line here. Or at least, I was... now that the rooms are done the pressure's off. I get hubby back this weekend, and then the SD's come home to roost sometime between then and the beginning of school. Although it would have been logistically possible to paint the rooms with them in residence, I'm really, really big on keeping the peace in the house. I'm pretty sure jamming two pre-teen girls in the same room after years of separation would result in fights and bickering... hell, everything else does, so why would this be an exception? (can you tell that I am in the mourning stage for my soon-to-be-lost solitude?)
I've begun the toe decreases on the last Monkey and have swatched for the next pair. Check it out.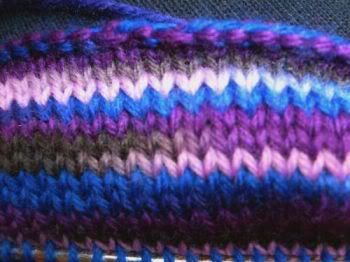 (KnitPicks Memories in Rocky Mountain Dusk)
Since I have to learn something new with each pair, these shall be toe-up socks. I don't know exactly which pattern yet; inspiration will strike.
After a concerted effort over the last few days, I put another 8 or so hours into quilting the duvet cover (Project 3.) No pics 'cause it looks pretty much the same, just a few less basting pins. It's a bitch, no doubt about it... jamming the better part of a king-sized quilt, thin though it may be, under the arm of the sewing machine doesn't leave much freedom of movement for the quilt, or myself. I end up swaddled in it... always appreciated when it's 30 degrees with what seems like 200% humidity. I am dropping by
my favourite quilt shop
in Kingston on my way to pick up DH this weekend... I'll choose a backing and get a length of snap closures so that this duvet cover will be keeping us warm this winter. Better late then never! :)
The sewing machine is in for a tune-up now so the hand-work takes the stage for the next two weeks.

Can you believe that I walked into both
a quilt shop
and the
best yarn store in Ottawa
today at lunch and bought... nothing??! I'm still feeling guilty about that little Kauni incident, I suppose.