Knitting, for me, has largely been a solitary pursuit. My girlfriend Lisa and I meet on occasion and compare notes, but as she is as multi-disciplinary as I am, if not more, knitting just isn't on the top of her list right now. I read magazines and knitblogs and knit in the solitude of my lunch-breaks and during late-night TV. Not very interactive.
That pattern broke hard today. The
Ottawa Knitting Guild
had a Knit-Out today at the Agricultural Museum. Although I'd never gone to a meeting as I have classes most Monday nights, that wasn't going to stop me from pulling up a lawn chair and getting cozy. And I'm glad I did.
Wendy was the official greeting committee, and the event planner.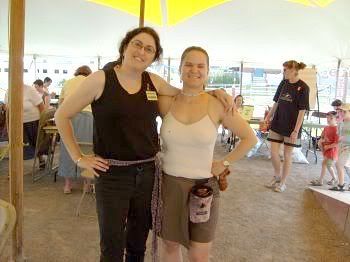 Though we'd never met before, I knew right away by her infectious laughter and smile that I was very much welcome. I milled around for the entire afternoon, meeting amazing people, like
Paula
,
Leanne
,
Sarah
, and many others. What a wonderful crowd.
Do you know how much of a high that was, to take my private little hobby out in public and interact with others? To talk about DPN's and mystery stoles and Koigu and not have people look at you like you've got a screw loose? To discuss knit blogs with others who are just as obsessed as you are? For once, I was speaking the same language as everyone else... we were all in the know.
I got outed today for an unconventional use of a piece of sporting equipment. Last time I was on KnitPicks, I saw this: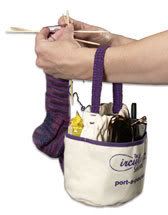 I immediately thought I could make one of those, then realized I pretty much already had one: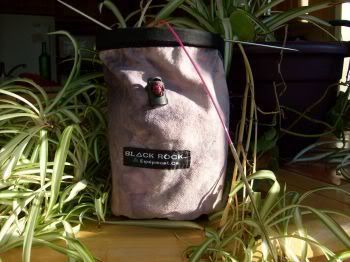 A rock-climber's chalk bag. As I couldn't see myself climbing again any time soon, I gave it a good wash to remove the chalk and pressed it into service. It worked like a charm, although me thinking that no-one would realize what it was went to hell with the second person I saw... of course, a climber who knits, or a knitter who climbs and knew my humble little bag exactly for what it is. Oh well! It works, and it works well, and it's recycling, right? :) (And it matches my pretty purple needle cables.)
I learned a lot today. I tried cabling for the first time.
I made my first cabling mistake today, too; no doubt the first of many. (I think it really bothered the lady who taught me that I wouldn't rip everything back to fix the mistake. Usually, me with the OCD soul would totally agree, but seeing as how it was a practice swatch, and even the mistake taught me something, I figured it was good enough.)
I learned that while I pick up the stitches on the heel of a pair of socks the right way, it was also the hardest possible way; similar to knitting with my non-dominant hand just to try it out. I learned the principles of the magic loop sock method and wished I had waited another few days to place my latest KnitPicks needle order, as I ordered all 24" needles and magic loop required somewhat longer cables.
I learned that knitters are all pretty cool people, and that we're not strangers at all. We're just friends that haven't met yet.
Before you go, take a look at my monster herb garden. I have never managed to grow herbs like this before... I can't eat them fast enough and find myself tucking fresh herbs into everything just 'cause I can.
I know. It's hard to deal with, isn't it? :)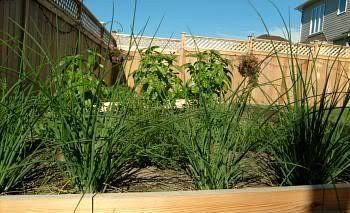 Thanks for sharing a perfect summer day with me.