After being held hostage in SD1's room on Saturday, finishing up painting yet another wall, I put the brush down and refused to pick it up for the rest of the weekend. Don't get me wrong, I love painting; transforming my environment into something that reflects my style, taste and moods. However, let it be known that light blue in no way reflects anything of
me
. This was a concession to the SD's that light blue profanes my otherwise earth-toned house.
Anyhow. Sunday was a day of utter indulgence... a lovely long sleep-in followed by another berry bowl and a pot of really, really good coffee. Knit-blog surfing ensued, and in the afternoon, I launched myself into the sewing room and this happened.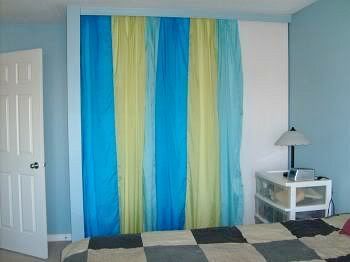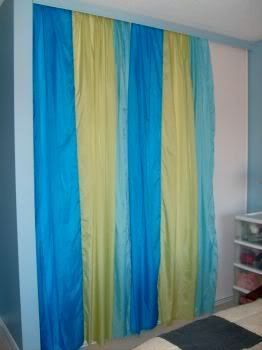 I know, this looks much the same as when it was draped over the needlework stand. You'll just have to take my word that it was three pieces of fabric at that time, and they were cut in half, sewn together in stripy goodness and seamed in the meantime. I used a French seam, which makes me feel clever every time I use it, and I also got in some good practice with my rolled hem foot for the side seams.
This is where this project ends, for now... although I convincingly attacked the closet doors with a variety of screwdrivers, I couldn't remove them. This obviously is a job for DH. It's a good thing we have a window of time from when he gets back to when the SD's fly back to the coop... I was hoping to have these rooms finished and ready to move back into when they arrive. (For now the curtains are tossed over the tops of the closet doors until DH rides to the rescue.)
I leave you with a whiff of pine. Obviously, I've decided to go for the tree... I think it's pretty, and as any good pagan will tell you, a tree is so obviously
not
a Christian symbol. (I am not currently a pagan but I am not currently Christian, either, and didn't want to have a symbol in the house of something I don't necessarily believe in. Trees, though? Tart them up any way you want, and they're still a natural neutral.) Convoluted and confusing enough for you? :)