I read a wide range of fabric arts blogs. Some days I'll just randomly follow links on a site and see where it will take me.
A few weeks ago, my random surfing took me
here
. The Mother's Day Project - one woman's attempt to help us all put a face to the losses of war; specifically, the female deaths.


This project has immediate meaning for me. I currently serve in the Canadian Armed Forces, my DH is deployed overseas, and I have lost friends in Afghanistan. Although we as Canadians fight in a different theatre, the human losses are not diminished by the lines between countries and causes. Our administrations and their justifications may be different, but the tragedies represented by these deaths go far beyond government policy.


The name I received belonged to a 19 year-old British medic,
Eleanor Dlugosz
. She of the bright blue eyes and infectious smile fell to a roadside bomb with four others on 5 April 2007. She loved her job and serving her country.


Eleanor
, or
Ella
, or
DZ
to some, feels like a friend of mine after this project. Her happy smile, her hopes, her aspirations, her short life and meaningless death have left their mark on me as I stitch her name in remembrance.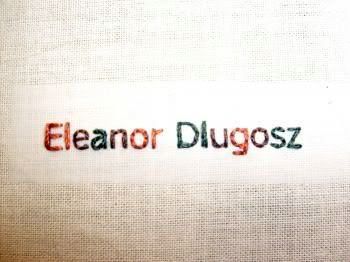 We remember, Ella.