I had a fabulous day today, with a wonderful breakfast outdoors, my fat cat lying in the cool (and admittedly too long) grass at my feet... there's granola and yogurt somewhere under those berries, I think! (the sprig of mint is from my own happy little herb garden.)
I hung flower baskets around the yard on the fence... this is a powerful dose of petunia power for your Tuesday afternoon.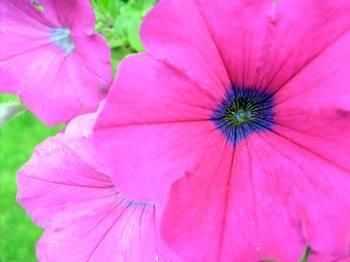 I trawled through a fabric store and a yarn store with my girlfriend Lisa yesterday and was struck by inspiration. These closet doors are completely unworkable... you can't access any more then a third of the closet at any time and they're ugly as sin.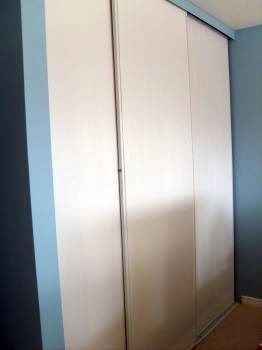 DH had the wonderful idea of removing the doors and hanging curtains... I love the idea and yesterday found this fabric (reposing elegantly on my cross-stitch stand... the most use it's seen in a long while):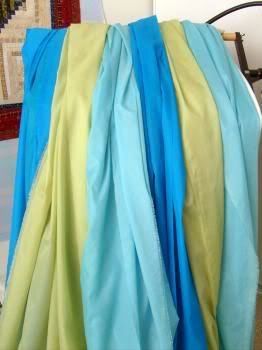 Can you picture it? Can you see what I see? Isn't it GLORIOUS??? :) I hope these turn out as well as the picture in my head, 'cause I love it so far. You can probably tell by these colours that I have indeed decided to go with the green accent wall. I think it will be a heck of a fun room, and I can't wait to hear what SD1 has to say about it!!!
I've also test-painted a drawer in the French Roast yummy yummy dark brown. Pics when the paint dries... I'm loving that, too.
My head is about to implode from all the projects I have going right now! Just in case you think I've already abandoned the quilting... the appliqué flowers are ready to go on!